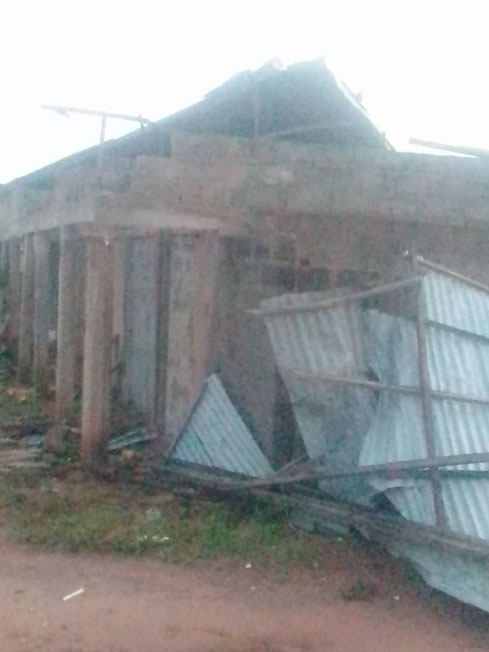 Due to the almost permanently bad weather (rainy season), it is not  easy to make progress on the construction site. 
The Gambia was hit by another storm last Friday around 11.30 p.m.
A woman in the neighborhood was hit in the face by a flying debris (allegedly an iron gate) and got killed.
The storm also destroyed the maternity ward of Fass Njaga Choi. It had been built by the VDC and a charity called HELPING CHARITY.
At the time of the storm, there were 2 women in the station. One birth went smoothly and the mother and child could be discharged, but the other had to be relocated because the roof was leaking heavily. Rainwater poured from a the cardboard ceiling panels onto the beds and the entire floor of the ward.

The ward serves the catchment of 19 neighboring villages, so the roof has to be repaired asap - just like so many other buildings.
The neighbor who took the widow and her children in now also has (partly) no roof - see photos.
Some good news at the end: Another neighbor donated 5 bags of cement to the family to help rebuilding their house.
Building a houses is not cheap, even in Gambia.
We still need your support, please.
Please consider donating.
Reason: storm victim
DONATION ACCOUNT of GAMBIAid
IBAN: AT 31 3209 2000 0281 1289
BIC: RLNWATWWGAE
Please support us in our work.