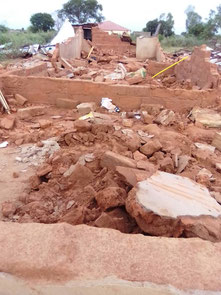 This is the house of the family of a friend of ours. As you can see it got completely destroyed. They also lost their father that night. They are faced with ruin.
________________
 Update:

We talked to the widow, Fatou. D., and the neighbor, who took the homeless family in.
Her husband had saved the children first and was finally trying to leave the house with his wife. That's when the house collapsed. His legs were totally smashed by the rubble and his blood loss was too severe to save him. His wife also had a massive piece of the wall on her chest and couldn't move. Only the children were able to run to the neighbors and call for help. And as we've already told you, nobody had heard them.

Fatou's injuries got treated, but she also had a serious shock after the disaster.
Currently, they are staying with a neighbor, who told us, that he didn't know what to do. Nobody was helping so far and the family had nowhere to go. And this wasn't about to change in the near future, so they were stuck in their situation.

They were so mind-blown and relieved when we told them, that we'd help them rebuild the house by means of your donations.
The neighbor said, he'll organize people to work on the construction site. We'll send the material. This time the house will be built with cement bricks, since the mud houses are not solid and safe.

Also, there will be video/photo updates of the progress.

Meanwhile, I send you the sincere thanks from the widow, the children and the neighbor.
Building a houses is not cheap, even in Gambia.
We still need your support, please.
Please consider donating.
Reason: storm victim
DONATION ACCOUNT of GAMBIAid
IBAN: AT 31 3209 2000 0281 1289
BIC: RLNWATWWGAE
Please support us in our work.