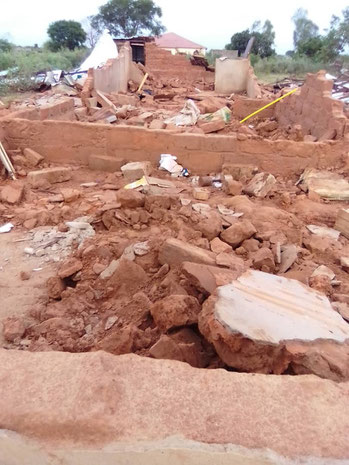 This is the house of the family of a friend of ours. As you can see it got completely destroyed. They also lost their father that night. They are faced with ruin.
________________
Full story:
An overnight windstorm in Gambia has killed more than 10 people, the National Disaster Management Agency said Thursday.
"The North Bank [Region] was hard hit...We recorded a minimum of deaths [there] and at least one in the West Coast Region," the agency's executive director, Sanna Dahaba, told reporters. (Stats from Thursday morning, meanwhile there are more victims)
The storm began late Wednesday evening, affecting at least 3,140 people and internally displacing 1,531.
- - - - - - - - - -
Our friend's family home was destroyed in the storm in the middle of the night. The father took his wife and children outside in an attempt to evacuate them, when a large part of the house fell on him. His wife and the children could not free him. So they ran to the neighboring houses, banging on the doors and calling for help. But since the storm was so loud and everyone inside sought shelter and hid, the neighbors believed that the noise was the storm. The family spent the whole night crying and unprotected next to the injured father. It wasn't until the next morning that the neighbors found them and called for help. The father was transported to one of the main clinics in the capital Banjul because of the seriousness of his injuries.
Tragically, our friend's father, who was buried by rubble from his house on the night of the storm, could not be rescued in the hospital and died from his injuries.
We want to help the family.
Perhaps there are a few among you who would like to support?
Please consider donating.
Reason: storm victim
DONATION ACCOUNT of GAMBIAid
IBAN: AT 31 3209 2000 0281 1289
BIC: RLNWATWWGAE
Please support us in our work.