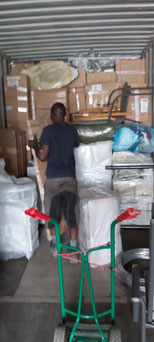 Finally, we're done loading our next container.
It took us a couple of days to sort, label, transport and store everything.
The loading list contains various things, from first aid materials, to school materials, toys, waterpump, irrigation, sewing machines, household articles, furniture, lighting protection, copy machines, computers, printers, various bags (office/laptop, school etc.), clothing, wheelchairs, mattresses for bedridden, child's bicycle, desks etc.