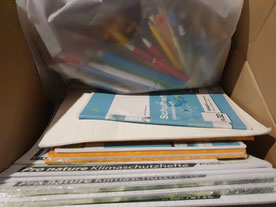 Margrit Windisch sent a parcel containing pens, pencils, exercise books etc.

Thank you very much!
GAMBIAid is a partner of stifte-stiften.de
Please keep collecting, the donations are going to make many children happy!
Austrian donors: Please feel free to send your collected items directly to us (not via Germany). Do not hesitate to contact us.
We are mainly collecting colored crayons, pencils, sharpeners, erasers, ruler, pencil cases, schoolbags.
Please do not send ballpoint pens, felt tip pens and other pens that are either empty quickly or dry out easily. We don't want to litter and there is no proper waste management in The Gambia. Thanks