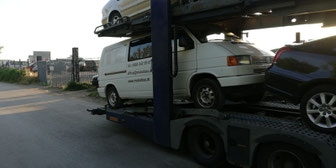 When we heard the news, that boarders had opened for goods trafic, we decided to send a part of our private donations to The Gambia.
Unfortunately, we cannot send a Container, because we have to be in Gambia for its arrival, so we can distribute and use the donations accordingly.
So, we sent a VW 70 D van, that we had bought ourselves and put some beds and mattresses inside.
The car will be used as Commercial car (taxi). It is going to Support a Family, whose father (=provider) had died. One of the sons is old enough to drive it.
The beds and mattresses are to large and of low value to be stolen on the long way to The Gambia, that's why we decided to put them inside the van.
Meanwhile, the car had been loaded and is on the way to Antwerp.
We also sent a pressure washer (privately financed as well), separately. Times are dire, but at least it's enabling to establish a car wash, which will again contribute to a family's income.
As I already mentioned, all this was privately financed.
All the other donations are still waiting for a Transport after travel restrictions are lifted.