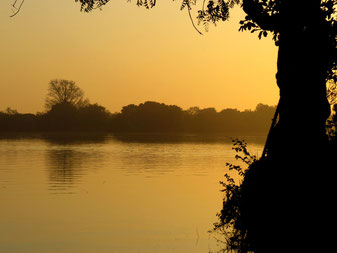 The truck arrived 3 am in the morning in Janjanbureh (former: Georgetown). On the way one of the tires had a puncture. Since the truck was already using its spare tires, there was no choice but to continue the journey with a flat tire. However, we're in Gambia and the situation was laid-back as usual: The other wheels carried the broken one anyway.
Thanks to a letter from the ministry of education, the truck was able to pass all the police and military check points on the way without further delay or disturbance and possible damage or loss of the donations.
The first ferry crossing the Gambia River at Janjanbureh to Lamin Koto went 8 am. It is able to carry up to 3 cars or one truck at a time. We took the first ferry with our little car, the truck had to wait for the second. From Lamin Koto it is only a rather short drive to Wassu, where the students were already eagerly waiting for us to arrive.
Some obligatory speeches were held. Afterwards the strongest boys of the Niani Upper and Senior Secondary school started to offload the truck and arrange the donations in the school yard, from where they were carried in the various school rooms for the later distribution or installation.
For all photos and descriptions, please click here!
Die Schuler und Lehrer wissen die Unterstützung äußerst zu schätzen und versprachen die bestmögliche Verwendung der Spenden.
Die schiere Menge der Sachen hat sie umgeworfen. Diese werden definitive die Lern- und Lebensbedingungen verbessern.