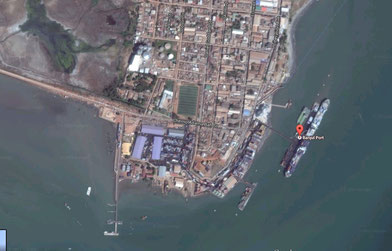 After two entire weeks of endless red tape and official channels, we got the container out of the habor. It took multiple visits at the Ministery of Education, of Finance, the Gambia Revenue Authority (GRA), the Gambia Port Authority (GPA), the clearing and forwarding agent, Delmas Gambia, customs at the port (inspecting the cargo and so on) etc.; umpsteen letters, stamps, guarantees, signatures...
But finally we also received a duty waiver and an exemption from the demurrage that had meanwhile arisen from the delay.
The day before loading, the truck, the ministry of education intended to provide, broke down. We had already wasted two days waiting for it and now this! Repairing it would have taken some days and because of the upcoming weekend (which starts Friday) and the preparations for the 50th Independence Day celebrations, we would have had further delays. To avoid this, we had to go and find a truck for the next morning. We found a friendly driver and quite a good truck at a rather reasonable price at Jimpex area. Later the driver said, if he had known before how stressful, chaotic and exhausting the procedures at the port were, he wouldn't have made the deal with us. And added: If somebody asked him again to pick up donations from the habor, he would refuse the deal. It was his first (and obviously last) time there.

After the port staff finally lifted our container to the ground for the second time (the first was the custom's inspection a couple of days ago), we hired some guys to help us loading our truck. We were literally human forklifts, heaving up everything onto the truck manually. Some packages weighed more than 180 kg. Only the copy paper we had to remove from the two pallets and load the packets individually, since we couldn't lift the more than 750 kg, that each weighed.
After that, our truck had to be X-rayed by the port authorities, driving an X-ray-vehicle around our truck, (presumably) also  distributing the radiation liberally to the people standing nearby.
Because of some more or less bizarre, time-killing events (e.g. suddenly we found our papers locked away in an office and the only owner of the key had gone to a funeral. But without these papers we were not allowed to leave the habor...), we just managed to get out of the port before closing time at 6 pm. With us, all the eagerly awaited donations...
(rough) Cargo List:
Chairs and office chairs

Footballs, ball pumps

First aid supplies, 2 sick beds, sphygmomanometers, clinical thermometers etc.


Tools, electric installation supplies (power sockets, light switches, cable etc)

LED tubes and sockets

Gardening tools, watering cans

Computers, keyboards, computer mice, screens, cables, printers, D-Link Sys, Scanner, Laptops etc.

1 fan

Stationery (notebooks, exercise books etc)

2 pallets Mondi copy paper

World maps

Various Toys

1 mattress, sheets and pillows (for reading corner)

Books

1 book shelf

5 black boards

Chalk

Clothing, shoes, bags, bed sheets, curtains, towels, blankets, pillows etc.

2 sewing machines

85 Solar powered desk lamps

Clocks

Rechargeable batteries, charger (spare batteries for solar lamps, clocks etc.)

School materials (hundreds of pencils and crayons, watercolours, erasers, sharpeners, rulers, pencil cases, etc.)

Several hundred little deko-dustbins as pencil holders

Stuffed animals
Some items were new, some in mint condition.