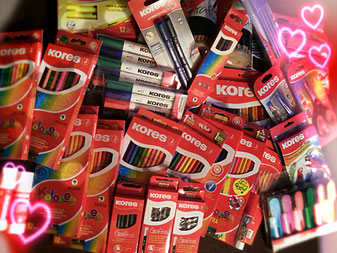 Yesterday, I had the opportunity to visit school materials' paradise at KORES and was given the permission to take hundreds of pencils, crayons, glues and many other useful things.
On the photo I uploaded is only a tiny choice of the school supplies that will go to The Gambia soon.
Since the container is already on the way, I will have to take it in one of my travelling bags.
Kores is a family owned producer and innovator of office and school products. The company was established in 1887 in Vienna, Austria and ever since it has been producing, marketing and selling Kores brand products all over the world. After being founded by Wilhelm Koreska, 4 successive generations of Koreskas have run the company.
Thank you very much for the support!
And big up to Sandra!