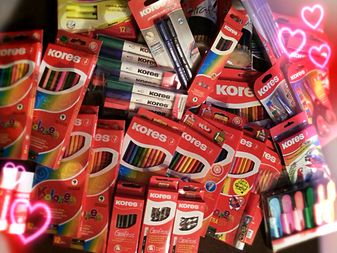 Gestern hatte ich die Gelegenheit das Paradies des Schulmaterials bei KORES zu besuchen und durfte hunderte Bleistifte, Buntstifte, Klebstoff und viele andere nützliche Dinge mitnehmen.
Auf dem Foto, das ich hochgeladen habe, sieht man nur eine winzige Auswahl der Schulartikel, die demnächst nach Gambia gehen.
Nachdem der Seecontainer bereits auf dem Weg ist, werde ich alles in einer meiner Reisetaschen mitnehmen.
Die KORES-Gruppe ist ein weltweit operierendes Familienunternehmen. Mit dem breiten Produktsortiment im klassischen Bürobedarf, bei Schulartikeln und im Druckerzubehör-Bereich ist KORES das weltweit größte Privatunternehmen.
Gegründet im Jahre 1887 in Wien, wurde das Unternehmen über Generationen von der Familie Koreska weitergeführt.

Vielen Dank für die Unterstützung!
And big up to Sandra!