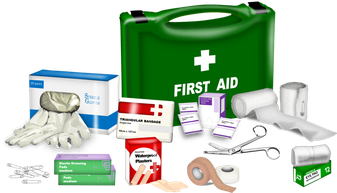 The first aid course will take place on the 23 and 24 of May 2015. Mr. Momodou Laineh of First Aid 4 Gambia is going to train the 20 teachers of the Niani Upper and Senior Secondary and the Niani Primary School in Wassu.
As mentioned earlier (Dec 2014), each course is based on a 1 day (6 hours)/10 persons UK Emergency First Aid at Work course which covers

Effective use of first aid equipment and hygiene
Aims of FA
Assessing situation
Dealing with unconscious casualty  -  breathing
Dealing with unconscious casualty  - non breathing - CPR with manikins adult and child
Choking
Burns
Shock
Wounds
Sprains and strains.
All candidates receive a certificate on successful completion of the course.
Courses are delivered by Mr. Laineh who is able to train in English, Mandinka and Wollof.
All courses are fully adapted for The Gambia.
First Aid 4 Gambia, a registered Scottish charity SCO40837, is going to train the teachers free of charge. GAMBIAid helped towards the costs for travelling and accomodation of the trainer.
Photos coming soon.